Infrared Thermal Imaging Services
At Alder Creek we are a Level II Certified Professional Thermographer.
Thermal Imaging has been in use for many years. These cameras are becoming a go to for the inspection industry for home and commercial inspectors. Our inspection services regularly include this service to find anomolies that are not visible to the naked eye. Infrared (IR) is an advanced method of a non-invasive way of identifying many problems in a home or commercial building. Thermal Imaging (Infrared) uses heat signatures to identify these problems.
The advantage of using Thermal Imaging is slowly becoming better understood by the clients as to the importance of this inspection. 
Alder Creek's clients rely on our state of art technolgy, expertise, and maintanance programs to assist in efectivly managing to minimize operational expenditures. Plant shut downs are a manufactureres worst nightmare. We can help to avoid these costly programs. 
Anomally high moisture in areas of buildings that could cause structural problems, mold issues, etc. If these moisture areas go unchecked these in time can be not only detrimental to the structure of the home but also the the habitants of the home. We can locate hot wiring due to problems in the electrical circuits. Thermography is a non invasive way of analysis for anomolies in building envelope, electrical applications, moisture intrusion, and many other ways to use a heat signature for detection.
Contact Alder Creek to get a quote for srevices.
Some of the issues that can be found with an Thermal Imaging Camera (Infrared-IR)
Moisture Detection in wall assembly sections
Moisture Detection in Flat Roof Assembly's
Building Envelope Evaluations
Commercial / Industrial Electrical / Mechanical Inspections
Utility Overhead and Underground Faulty Electrical Connections
Plumbing Leaks
Inadequate or Non-Existant Insulations
Excessive Moisture in Materials
Malfunctioning Radiant Heating
Leaks in Infloor Water Heat Systems
Air Duct System Leaks
Cold Air Infiltration
Overloaded Electrical Services
Possible Pest Infestation
Roof Leaks

Over heating electrical circuits could be caused by many problems down stream that can be fixed before they turn into a major financial cost or potential fire hazard.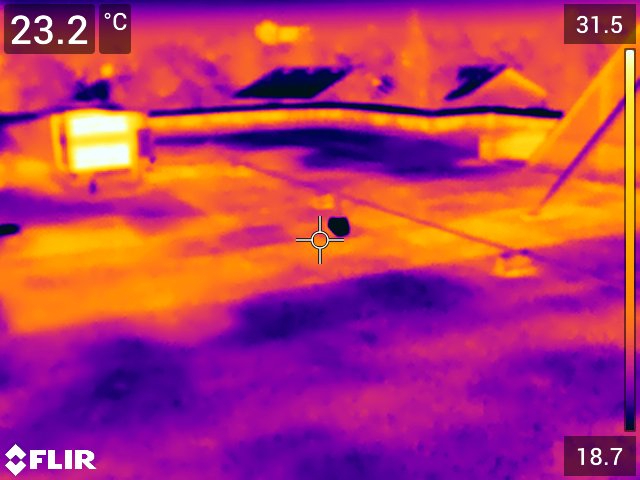 Roof Scans reveal moisture problems in roof deck areas. Clients can put together a roof replacement budget based on the analysis we can provide.
Consultations;
Alder Creek will take a methodical approach to the assigned tasks asked for by the clients to ensure the most accurate results provided to the clients can help in the descision making processes. Our operators are able to analyse the extent of the seriousness of the faults by assessing the atmospheric conditions, while adjusting the cameras controls. As major defects are located, the operator has will have a regular picture and the thermal image of the fault.
Inspections;
Our crew has the ability to inspect power utility components, high voltage distribution systems, sub-station components, along with roof and wall sections for air and moisture leaks. The Infrared camera (heat radiation) is converted with the use of the highly specialized camera is turned into a picture where even the smallest details can be identified.
Analysis; 
Temperature differences as small as .02Deg/C can be identified, measured and recorded. The locations of the anomalies are revealed in the Thermograms. There will also be regular accompanying photo of the anomaly. The data in the report along with explanations of the anomalies with each Therogram will help in making preventative descisions. 
Results;
You can use Alder Creek's professionals for a fulls ervice provider from the consultation to the incorporation of a full maintanance program. Our analytics can save you organization money and time, by detecting problems early before a costly shut down occurs. This can enable the repairs to be rectified in an off-hour maintanance schedule.