Alder CReek Inspections and Consulting,
serving areas in South Westerm Ontario including Waterloo Region, Cambridge, Guelph, Stratford, Goderich, Woodstock, etc.
Rdon potential in the Waterloo Region and Southwestern Ontario as a real issue. Radon requires a particular test to be completed to evaluate the amount of Radon in the home or place of work.Acording to Health Canada Southwestern Ontario is in the high catagory for Radon in Canada.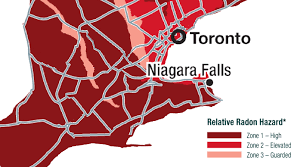 The Health Canada map puts Waterloo Region directly in the high content, zone 1 area. Indoor air quality is a very serious problem with Canadians spending as much as 90% of their time indoors. Radon is the second largest cause of Lung Cancer next to cigarette smoke. Radon kills approximatley 3200 Canadians per year. Radon content in building has nothing to do with the construction of the home or the materials used for construction. Radon is from the soils we live on. With homes being so air tight the Radon or air quality issues do not get diluted as well with outside air anymore.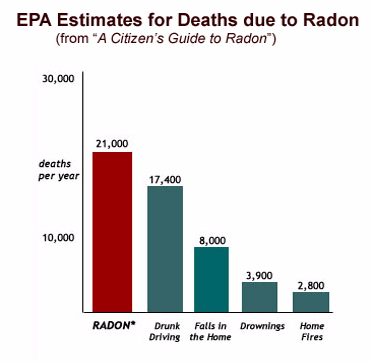 The graph show the EPA statistics on deaths related to Radon. 
The Government is working on a bill that will require all commercial buildings to be tested for Radon content. This will be for all buildings from restaurants to office towers. All will be required to be tested and mitigated if nessessary. 
Alder Creek is a member of the association C-ARTS who is the body representing the Radon awareness movement. 
Alder Creek also in its arsinal deals with poor indoor air quality due to contamints in the air we breath. Sick building syndrome is also an issue Alder Creek deals with for home owners and office environments. We have reduced sick days for clients down to as low as possible. When installing these systems people in general feel better with more energy and focus on their task at hand.
Please feel free to contact Alder Creek Inspections and Consulting for a consultation.
Our affiliates for air quality testing along with lab results are.